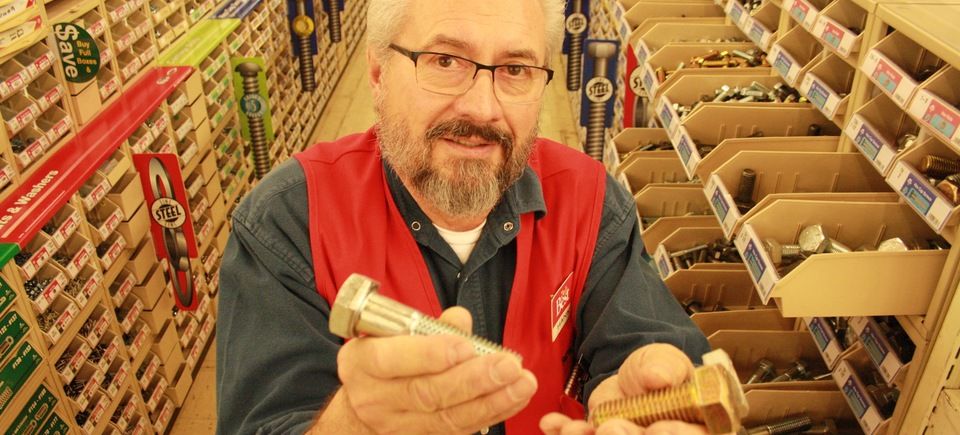 Hardware takes forefront at Farm & Home
Despite its variety of product offerings, hardware continues to take a front seat at Farm & Home, Chilton's hometown hardware store.
In many ways, the changes that the store has implemented in the past year have emphasized a return to the core concept of the local community hardware store.
"We have worked hard the past year on bringing hardware back to the forefront," owner Kim McKeen said. "We have been working on that transition, and are just putting the finishing touches on it now."
The return to a true hardware store identity has involved a sorting out of the most important items for local shoppers. "We have tried to clean things up and focus on what is most useful and necessary for our customers," McKeen added.
"Most importantly, we want to thank all of our customers for their patience and understanding through these changes. We certainly hope they like the finished product when it's done."
Take even the simplest of categories, like light bulbs. The review process has weeded out some of the old bulbs and replaced them with the new varieties. "Buying light bulbs used to be pretty simple," he said. "These days, with halogen, LED and all other sorts of options, a light bulb purchase is almost a research project. And, we are here to help that process."

Aisle of widgets
The same concept of filling hardware needs comes to play in what McKeen refers to as the "Aisle of Widgets."
"We offer all the nuts and bolts, but it's more than nuts and bolts. Our aisle of widgets has all those strange little fittings, anchors and hangers that you can't find anywhere else," he said.
More than 70 new drawers of widgets have been added to the aisle in recent months.
McKeen tells the story of a shopper from the Chilton area who came to Farm & Home claiming he couldn't find a particular widget anywhere he had shopped. "Our hardware guy went right to the drawer and found it. He put a lot of miles on when he could have come right here to find what he needed," he said.
That theory of deep inventory lines for projects pertains to other hardware departments as well. Whether the project is electrical or plumbing, Farm & Home strives to carry all the accessories to get the job done. Part of the move to bring "hardware to the front" has been to improve the offerings of plumbing and electrical components and accessories.

Tools beefed up
Farm & Home has also sunk its teeth into a wider set of tool offerings.
Through Do-It-Best, the store has widened its Channel Lock tool inventory—ranging from pliers to hand tools, sockets, wrenches and ratchets—all the staples of the do-it-yourselfer's toolbox.
Do-It-Best has also upgraded its warehouse stock for Milwaukee Power Tool accessories, including Sawzall blades, tool bits and power tools.

Do-It-Best advantages
Farm & Home offers many other customer advantages through its Do-It-Best affiliation.
Do-I-Best is one of the largest harware cooperatives in the country today. They stock more than 67,000 different items in the warehouse, available to Farm & Home customers just arm's length away.
Farm & Home customers are able to order through the semi-annual catalogs, or through online shopping at doitbest.com.
Their purchases can be delivered directly to Farm and Home with two to three days.
"They pay zero freight, and they don't have to drive 30 or 40 miles to pick the item up. And they save all the gas, time and money chasing around," McKeen said.
"It's like having Home Depot, Lowe's and Menard's all in one at your fingertips," he added.
Customers can find items like cabinets, flooring, curios and more that are available through the Farm and Home/Do-It-Best cooperative arrangement.
"The good news is, if you live in our small communities here in Eastern Wisconsin, you don't have to leave town to find the big and cool stuff. It's all right here at your fingertips at your local hardware store."
Most customers, once they get familiar with the catalog and online shopping process are amazed. "They didn't know that Do-It-Best had all this stuff."
Meanwhile back at the local hardware outlet, shoppers continue to be greeted by the familiar offerings.
And, right there, in the front row, are the traditional hardware needs that have been the staple products.
Easy to find....
Close to home.....
In the forefront.....
Right where hardware belongs.